Question From:
ALAN WORLEY in RUSHWORTH, VIC Victoria
Nature of problem:
SOME VERTICAL BRANCHES APPEAR TO BE DYING
Type of Plant (if known):
PENCIL PINE
Symptoms of Plant Illness (please try NOT to diagnose your problems yourself):
SOME VERTICAL BRANCHES APPEAR TO BE DYING
Soil Type (e.g. sandy, clay or loam) OR Potting Mix Type:
OLD ALLUVIAL GROUND VERY STONY WITH CLAY AND SOME SOIL
How often do you water the plant:
IT IS ON A WATERING SYSTEM AND GETS ABOUT 10 MINUTES OF FINE SPRINKLER EVERY NIGHT only in the dry period
How many hours of sunlight does the plant get each day:
10
How long since you planted it:
WAS HERE WHEN WE BOUGT THE PLACE 12 YEARS AGO, THEY WERE ONLY ABOUT 4 FEET HIGH
Have you fertilised? If so, with what and when:
NO FERTILZER
Is the plant indoors or outdoors:
OUT DOORS
Is the plant in a pot or in the ground:
IN THE GROUND
What other treatments have you given the plant:
NONE
Upload photo if available: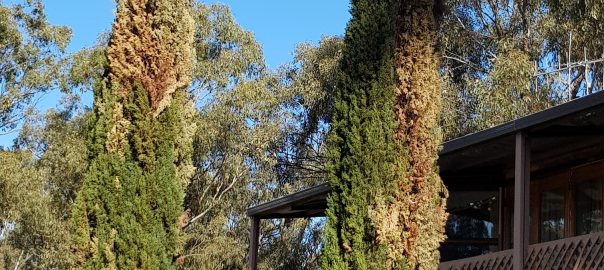 Other Comments:
WE HAVE ONLY NOTICE THIS PROBLEM IN THE LAST FEW MONTHS, IT STARTED OFF WITH JUST A FEW BROWN AREAS SHOWING ON THE HALFWAY MARK TO THE TOP, AND HAS BEEN GETTING WORSE.
I HAVE NOTICE THAT OVER THE LAST FEW MONTHS WE HAVE HAD ABOUT 6 TO 8 ROSELLAS USING THE TREES AS A NIGHT TIME ROOSTING SPOT ABOUT DUSK, AS THEY FLY OUT OF THE TREE IF I DISTURB THEM.
WE DO HAVE TWO MORE PENCIL PINES ABOUT 15 MTRS AWAY, BUT THE ARE NOT AS BIG AND ARE NOT AFFECTED.
HOPING YOU MIGHT HAVE AN ANSWER AS WE REALY DO NOT WANT TO LOOSE THEM.
REGARDS ALAN AND MARG WORLEY
PS: USED TO WATCH BURKES BACKYARD ALL THE TIME, UNTILL IT WAS NO MORE, SADLY MISSED.
Answer:
Hi Alan, This is really nasty. They are dying due to lack of water. Ten minutes of a fine sprinkler every night is almost certain to kill plants during a drought. You needed an hour of watering once a week. About all that you can do now is to get a Capital (metal) sprinkler and water them twice a week for an hour for a few months. You could also apply some Saturaid to try to counteract the water-repelling soil that you have created. But they may still die and they will never be the elegant slender shape of the years past. They will most likely have Cypress Bark weevil as well, due to their run down condition. TLC is what they needed, but it may well be too late. Sorry, Don