Question From:
Andre Dsouza in Fulham Gardens, Fulham Gardens South Australia
Nature of problem:
Lemon tree. Has two main branches. Main left branch foliage/sub branches had dried so I cut it off [see pic1]. Leaves on good branch okay. I do get a bit of yellowing but has not proved to be aproblem for thalast 20 years. I noticed some smaller branches dying last year but did not think much about it.
Type of Plant (if known):
Main left branch looked dead so I cut it oof [see pic1]. Resin seeping from the main base but was more so from the left branch [see pic2]. Leaves from the right hand side branch looks normal [pio3].
Symptoms of Plant Illness (please try NOT to diagnose your problems yourself):
Oozing resin and the main left branch I believe is dead
Soil Type (e.g. sandy, clay or loam) OR Potting Mix Type:
Top soil say about 50cm okay but area is clay
How often do you water the plant:
depends. Hot weather once a week but usually once a fortnight. I water very little in winter.
How many hours of sunlight does the plant get each day:
all day
How long since you planted it:
Came with the house. I have been here 20 years
Have you fertilised? If so, with what and when:
I fertilise every 3 months with mainly dynamic uplifter although this year I also used fruit fertiliser for the first time this year.
Is the plant indoors or outdoors:
outdoors
Is the plant in a pot or in the ground:
ground
What other treatments have you given the plant:
none
Upload photo if available: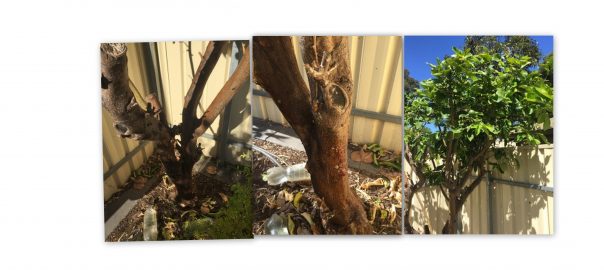 Other Comments:
I wanted to add 3 pics but I don't think I could so I created a collage of the 3. They read left to right as pic1, pic2 and pic3 in my comments above
Answer:
Hi Andre,
Citrus trees usually only last about 20 years; and dwarf citrus trees about 15 years. They must be fertilised with citrus food at least once a year in August – better still twice a year, a full dose in August and a half dose in February.
Your tree is dying of old age & neglect, but if you treat it with Yates Anti Rot you may save it. Good luck, Don