Question From:
Margaret Cini in Pakenham, Melbourne Victoria
Nature of problem:
Yellowing leaves on old growth and also on new growth.
Type of Plant (if known):
Cycad. Not sure what type. Sago I think
Symptoms of Plant Illness (please try NOT to diagnose your problems yourself):
Old leaves yellowing, some with brown spots. New leaves going brown in patches, very dry and brittle in spots
Soil Type (e.g. sandy, clay or loam) OR Potting Mix Type:
Hortico all purpose blend potting mix
How often do you water the plant:
three times a week in hot weather, otherwise once or twice a a week
How many hours of sunlight does the plant get each day:
It was getting 3 hrs a day. When I noticed it starting to yellow I moved it into more sunlight. 6 hrs a day
How long since you planted it:
It's been in a pot for about 10 years.
Have you fertilised? If so, with what and when:
I fertilised it 2 weeks ago with Osmocote pots , planters & indoors
Is the plant indoors or outdoors:
outdoors
Is the plant in a pot or in the ground:
Pot
What other treatments have you given the plant:
I repotted it into a bigger terracotta pot
Upload photo if available: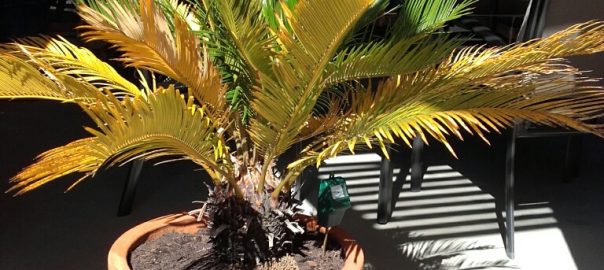 Other Comments:
I have tried to load photo's but it doesn't seem to work. I have repotted and fertilized the plant as I thought it may have been nitrogen deficient. I used an osmocote slow release fertilizer as I don't know when it was last fed. It was my father's plant and I am desperatly trying to save it as he passed away last year. I hope you can help
Answer:
Hi Margaret, thanks for the photo..it helps a lot. The poor plant is water-deficient. If possible, I would immerse the entire pot and root ball in water with some Saturaid added for about 45 minutes. This is necessary to overcome the water-repelling nature of your potting mix. Then I would re-pot it into a 50% larger pot with a saucer underneath – not a wire framework. Don