The Bernese Mountain Dog – Pet Road Test
Breed: Bernese Mountain dog
Temperament: placid, gentle
Cost: $800+
Lifespan: 8-10 years
Recommended for: families of older children
Dumpage rate: low
Popularity: stable
Ranking: 78 out of 175 breeds
Maintenance: low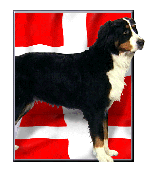 The Bernese Mountain Dog is one of Burke's Backyard's recommended breeds, suitable for families with children aged 10 years and over. It falls into a grouping of more energetic breeds with good temperaments but which are probably too large for families with toddlers or very young children.
Temperament
The Bernese Mountain Dog has been described as gentle and placid, so much so that while they are considered a good watchdog, it's unlikely they would attack an intruder. Puppies and young dogs can be quite boisterous.
Breeders recommend that Bernese Mountain Dogs are not a breed suitable for a solitary life in the backyard. They say left without personal attention it's likely they'd become miserable and shy, and a big problem dog.
Appearance
The Bernese Mountain Dog is a large (not giant) breed with a striking black, tan and white double coat. Mature dogs are 64-70cm (25-27.5″) tall and bitches 58-66cm (23-26″). They weigh 40-45kg (88-99lb) for males and 30-35kg (66-77lb) for bitches. The coat is long, smooth and slightly wavy.
The breed is slow to mature and while it may reach its full height by around 12 months of age, it could take up to four years to fill out.
Health & lifespan
Hip and elbow dysplasia are crippling diseases of the joints, inherited from the parents. Prospective owners should ask breeders for a copy of the hip score and elbow rating and discuss it with a vet. Hip scores are given out of 106 points. A score of over 30 can lead to problems for dogs in later life.
Histiocytosis is a hereditary type of cancer which is common in the breed. It affects dogs between four and eight years of age and is fatal.
Through extensive research, breeders are aiming to reduce the incidence of these diseases. Bernese Mountain Dogs live eight to 10 years.
Training
An untrained Bernese, despite its gentle disposition, can be a problem if only due to its large size. Formal training is strongly recommended by long-term owners and breeders.
Feeding
Owners recommend a good quality commercial dry food and some add fresh meat or chicken.
Grooming
The heavy coat needs a 30-45 minute brush every two to three weeks. At the same time the dog's ears should be checked for moisture or dirty wax. The coat will shed a lot of hair, with a heavy summer moult.
Space & exercise
This is not a breed for a flat or unit. Minimum space would be a suburban backyard and a 20 minute daily walk is recommended.
It is vital that sufficient shade and water is provided for dogs during the summer months as they are very susceptible to heat stress. Some owners recommend access to cool rooms, such as bathrooms and laundries. Many dogs will dig holes to lie in when the weather is very hot.
History
The Bernese Mountain Dog is said to have been developed in Berne, the capital of Switzerland, as a multipurpose farm dog.
Further information
Owner and breeder, Lyn Brand, can supply contacts for Bernese Mountain Dog breeders throughout Australia. Contact: Lyn Brand Phone: (02) 4573 6203 Fax: (02) 4573 6491. Otherwise contact the Canine Council in your state.
ACT
Canberra Kennel Association
PO Box 815
Dickson, 2602
Phone: (02) 6241 4404
NSW
NSW Canine Council
PO Box 632
St Marys 2760
Phone: (02) 9834 3022
NT
North Australian Canine Association
PO Box 375321
Winnellie 0821
Phone: (08) 8984 3570 / (08) 9843 570
QLD
The Canine Control Council (Qld)
PO Box 495
Fortitude Valley 4006
Phone: (07) 3252 2661
SA
The Bernese Mountain Dog Club of SA
PO Box 1511
Bridgewater, 5155
Phone: (08) 8370 1161
Fax: (08) 8370 1035
e-mail: creat_kit@adelaide.on.net
TAS
Tasmanian Canine Association
PO Box 116
Glenorchy, 7010
Phone: (03) 6272 9443
VIC
Victorian Canine Association Inc.
PO Box K9
Ascot Vale 3032
Phone: (03) 9376 2255
WA
The Canine Association of WA
PO Box 301
Gosnells, 6110
Phone: (08) 9455 1188