Question From:
Paul Mikkelsen in Wynnum, Bne Queensland
Nature of problem:
Discoloured fruit on lemon tree
Type of Plant (if known):
Myer lemon and lotsa lemon
Symptoms of Plant Illness (please try NOT to diagnose your problems yourself):
Fruit starting out fine and then turning a grey colour
Soil Type (e.g. sandy, clay or loam) OR Potting Mix Type:
Sandy
How often do you water the plant:
Irregularly
How many hours of sunlight does the plant get each day:
Over 8, in direct sun
How long since you planted it:
3 years and 5 years
Have you fertilised? If so, with what and when:
Citrus fertiliser.
Is the plant indoors or outdoors:
Outdoors
Is the plant in a pot or in the ground:
Ground
What other treatments have you given the plant:
Nil
Upload photo if available: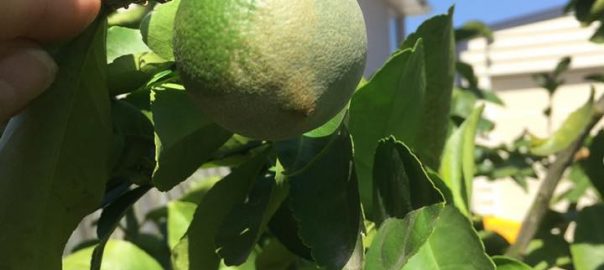 Other Comments:
This season there is an abundance of fruit on the lotsa lemon tree which is planted in sandy soil with mulch and in full sun. The photo is of the problem that occurs year on year.
Answer:
Hi Paul, It is a bit of a mystery to me. It could be sunburn through early morning dew. If the fruit is OK to eat, then ignore it. You don't say how often you fertilise it: do it in August and February each year: a full dose in August and half dose in February. Don