Orchids (Orchidaceae)
The common orchid (Orchidaceae) most people identify with tend to be the Cymbidium orchids, which are grown for their flamboyant and colourful flowers. The climate in most capital cities is suited to growing cymbidium orchids in a sheltered and shady area. This sets them apart from many of the more tender, tropical orchids such as slipper orchids (Paphiopedilum) and moth orchids (Phalaenopsis), which need warm or hot house conditions outside the tropics.
 Orchids come in many varieties such as:
Bifrenarias, whichare easy to grow, as long as they have bright light, moisture and humidity. The perfumed flowers are roughly triangular in shape.
Bletilla striata, or Hyacinth orchid – This perennial plant grows to around 40cm (18″) tall with clumps of strap-like leaves. Flowers appear from late spring to early summer on a spike. Each flower is about 2.5cm (1″) long. Colours include carmine pink, white and pale pink.
Cattleya orchid – An epiphytic orchid from tropical parts of Central and South America. Needs a warm sheltered position if grown outside the tropics or subtropics.
Cymbidium, or common boat orchid – Cymbidium orchids are grown for their flamboyant and colourful flowers. The climate in most Australian capital cities is suited to growing cymbidium orchids in a sheltered, shady area. 
Dendrobiums kingianum (Thelychitons) – A native Australian treasure, some of them are very sweetly perfumed and if looked at closely, in strong light, sparkles can be seen in the petals. 
Epidendrums originate in the Americas, from Florida to Argentina. There are hundreds of species and they vary tremendously. Some have leafy cane-like stems, others have pseudobulbs. They grow best in a warm, frost free climate.
Lycaste are tree dwellers from tropical America. They have triangular shaped flowers in a range of colours including orange, yellow, green, pink, red and white. They need a bright, airy position with ample water during the growing season. The plants rest in winter and must be kept fairly dry.
Masdevallia species are found at high altitudes in the mountains of South America. There are also many hybrids in cultivation. Flower colours include white, yellow, purple, red, orange and pink. They grow best in controlled conditions in a greenhouse.
Miniature orchids have tiny flowers. An example is the Australian native, Dendrobium torresea, which has small yellow flowers about 3mm across.
NSW Rock Lilly (Orchid) – Native to Australia it has sprays of small, creamy-yellow flowers, thick, leathery leaves and swollen, bulbous roots (called pseudobulbs).
Oncidiums are commonly called Dancing Ladies. The species usually cultivated are epiphytes, and often have arching sprays of brown and yellow flowers. They like a position in part shade, with high humidity. They are prone to root rot so must not be overwatered
Paphiopedilum, slipper orchid – These orchids can be grown outside the tropics with some shelter. Slipper orchids, which get their name from the slipper-like shape of the flower, need humid conditions, with shade from direct sunlight and good air circulation. These orchids can be grown indoors in a conservatory or well-lit spot but are not recommended for beginners.
Phalaenopsis, or moth orchid – This orchid, with its large cascade of moth-like flowers, is a tropical orchid. It will grow in the central to southern areas of Australia if given protection from cold. Again, not recommended for beginners.
Pterostylis Concinna, Greenhood orchid – A delicate native Australian orchid.  They can be successfully potted but are terrestrial orchids, so they don't grow in soil but should be grown in mulch or orchid mix.
Sarcochilus species are easy to grow and make good specimen plants. These Australian native orchids like a shady position and plenty of moisture.
Stanhopea orchid – There are around 30 species in the genus Stanhopea, and they are spectacular epiphytic orchids native to South America. Their most unusual feature is that the flowers actually grow downward, and they are also highly prized for their very strong, distinctive fragrance. 
Vanilla orchid – The vanilla plant is a perennial vine from Mexico and Central America, which climbs to around 15 metres and supports itself by means of aerial roots.
Orchid Growing Tips
Talk to experts at specialist orchid nurseries before purchasing the more exotic and delicate varieties of orchids some of which are mentioned above..
Climate Map:
orchids will grow in most mainland capital cities and coastal districts. Most will not tolerate cold night temperatures.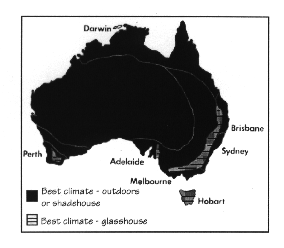 Uses:
Potted around the house indoors or outdoors to provide stunning colour and style to the garden.
Orchids will not grow in garden soil but can be made to look as if they are growing in the garden by planting them in orchid potting mix on top of the garden soil. Use at least 30cm (12″) of orchid mix.
Orchids are also used as cut flowers and in corsages.
Getting started: 
Orchids and specially formulated potting mixes are available from nurseries throughout Australia. 
Mini-world Orchids
Open to the public by appointment only, phone: (02) 9654 1072.
Swane's Nursery
490 Galston Road, Dural NSW, 2158.
Phone: (02) 9651 1322. 
Australian Orchid Nursery
www.australianorchids.com.au
58 Mornington-Tyabb Road Tyabb Vic 3913
B&T Ferns & Orchids
30 Wiseman Road Silvan Vic (03) 9737 9354
Garard Brothers Orchids
150 Brodie Road Morphett Vale SA (08) 8382 2130
ETJ Australian Native orchids
PO Box 27 Kendall NSW (02) 6556 9766
Nesbitts orchids
email: lesnesbitt@primus.com.au
PO Box 72 Walkerville SA 5081
Mt Beenak Orchids
www.mtbeenakorchids.com.au
(03) 5966 7253
Orchids Mackay
Email dgedda@bigpond.net.au
(07) 4959 8442
Tinonee Orchids
768  Tinonee Road, Tinonee,
NSW AUSTRALIA 2430
Phone/Fax: (02) 6553 1012
www.tinoneeorchids.com
There is also The Australasian Native Orchid Society (ANOS) – www.anos.org.au – are definitely worth contacting.  Rarely do you find an amateur society that shows the dedication and the scientific sophistication of this group.
The Australian Orchid Review, a bi-monthly magazine available in newsagents also lists orchid shows and growers throughout Australia.