Question From:
Melanie Price in West Pennant Hills, Sydney New South Wales
Nature of problem:
Stunted sparse leaves and no flowers on a Pink Magnolia Tree
Type of Plant (if known):
Pink Magnolia – stunted growth leaves, sparse. No flowers last spring.
Symptoms of Plant Illness (please try NOT to diagnose your problems yourself):
stunted growth leaves, sparse. No flowers last spring.
Soil Type (e.g. sandy, clay or loam) OR Potting Mix Type:
Average garden soil for Sydney – a little more clay.
How often do you water the plant:
Every day
How many hours of sunlight does the plant get each day:
approx 8-10
How long since you planted it:
it was here before we moved here so at least 16 yrs.
Have you fertilised? If so, with what and when:
no just a little general garden fertiliser for all the plants and mulch
Is the plant indoors or outdoors:
outdoors
Is the plant in a pot or in the ground:
ground
What other treatments have you given the plant:
pruning
Upload photo if available: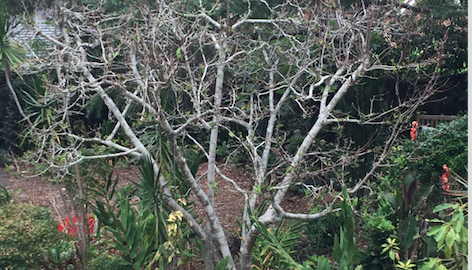 Other Comments:
My beautiful pink magnolia tree did not flower or leaf up this past spring. It has tiny stunted growth leaves all over it. It also has lichen on it but we know that is not a problem. It has been healthy up till now, with massive pink flowers every spring. I think it is about 20 years old, maybe older. It's about 2.5 m tall but we prune off the shooters. All the garden plants around it are healthy and growing well.
Answer:
Hi Melanie, Sadly, your magnolia is beyond help. You seem to have cared for it quite well, except that once a week watering would have been better. Maybe that position is not good for magnolias. Perhaps you should plant something else there in its stead. Sorry to be the bearer of bad news. Don.