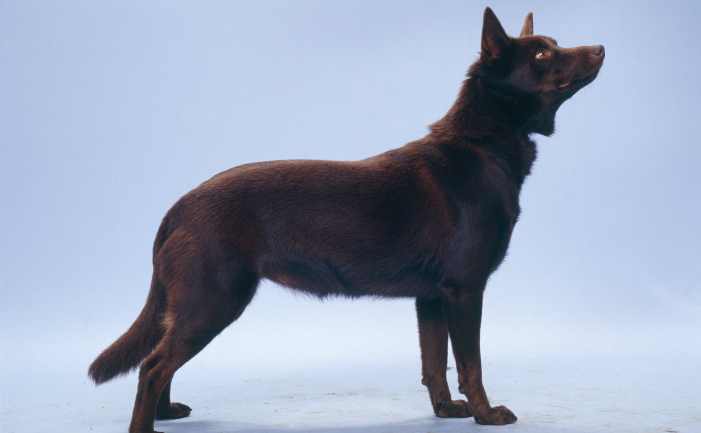 Australian Working Kelpie
Breed: Australian Working Kelpie
Temperament: very active and intelligent
Lifespan: 12 -15 years
Maintenance: low (working dog), high (pet)
Recommended for: working sheep properties
History
Australians can be very proud of the Australian Working Kelpie. It is one of Australia's truly national dogs. However its origins lie in Scotland, where a number of collie-types (collie is Scottish for sheepdog) contributed to the development of the breed we know today. These founding sheepdogs, whilst not necessarily registered breeds, were developed within the various regions of Scotland. Some dogs more suited to the sweeping moors and others the Highlands.
During Australia's migrant boom in the 1800s, demand grew for a dog suited to working with the vastly developing Merino sheep population. This saw the import of many herding dogs from the homelands of new migrants, particulary the United Kingdom. Many breeds were brought to Australia, but those most suited to the harsh conditions were soon recognised. It was these few strains of Scottish working dogs, in particular a strain from the Rutherford family, which were crossed together, and with a mix of good fortune and skill the Kelpie was born. These original strains have now all but disappeared.
The Merino sheep has gone down in history as the catalyst for the development of Australia during the 19th and early 20th centuries. With no sheep on Australian soil prior to the arrival of the first fleet, the Australian sheep population exploded to a peak of 180 million by 1970, by far the highest population in the world at the time. It is the special contribution of the Australian Working Kelpie which helped create this vast rural enterprise, and Australia, to flourish and develop as it did.
The Kelpie was first registered as a breed in Australia in 1902, one of the earliest registered breeds in Australia. This was actually four years before the Border Collie was registered as a breed in Britain.
Uses
The Kelpie is undoubtedly a special breed. Capable of tirelessly working in blistering heat, freezing cold and over great distances for days on end, a good kelpie is said to be worth many men, particulary in mountain conditions or over vast areas.
A kelpie is most valuable in the paddocks and yards, gathering a mob of sheep, driving them to the yards and pens and forcing the sheep through races, up ramps and into sheds and trucks. Always alert and watchful, the Kelpie is required to be an independent thinker, though will also rely on various whistle commands made by its owner. There are about half a dozen commands to which the Kelpie is trained to respond, each of these commands directing the dog to perform certain tasks.
Terms often used by Working Kelpie handlers include;
Cast: A Kelpie is sent to 'cast' or 'gather' a mob of sheep when the farmer wants to bring his sheep to a certain point, such as the yards. The dog's ability to cast long distances is invaluable and the best dogs will have a natural ability to do so.
Hold: Working Kelpies require the ability to 'hold' a mob of sheep together. Sheep will instinctively remain together, but if pressured or startled, individuals can break away from the mob. A sheep which breaks away should be quickly gathered and returned by the dog.
Keeping Distance: Sheep don't always require constant pushing by the dog, especially if travelling long distances in extreme heat. A kelpie must have the ability to keep some distance from the mob so that the sheep are permitted to walk along steadily. Kelpies which instinctively know when to apply pressure to push the mob forward and also when to ease back and keep distance are strongly desired. The dog must also quickly respond to commands requiring it to 'stay' and 'walk in'.
Backing: When a dog is required to leap onto the sheeps' backs if they become jammed in the loading chutes.
Eye: A dog is said to have a 'good eye' if he is able to steady his approach and watch the mob's every move intently, controlling sheep with its eyes. The dog will often take on an exaggerated stalking motion. A dog which possess a 'flexible eye' is able to watch and read many sheep, 'holding' them with its gaze.
Appearance
Since its inception, the Kelpie breed has developed into two distinct strains; the original Working Kelpie and the more recent class of 'Bench Kelpie' – a type specifically created for the show ring and more often seen as a pet rather than a working dog.
Unlike the Bench Kelpie, the working dog is not bred for colour. The black and tan is regarded as the truest colour of the Working Kelpie breed, though it may also appear in red, blue or fawn, with or without tan.
Working kelpies are slightly smaller than the bench type, which stands up to 51cm at the wither (like the Cattle Dog). The double coat is short and dense with a thick undercoat covered by a hard, rain-resistant outer coat. The Working Kelpie's coat is more coarse than the bench type.
Kelpies are athletic with muscular shoulders and a strong hindquarter. The head is slightly rounded and broad between the eyes. Unlike the Bench Kelpie, the Working Kelpie is maintained in 'working condition', with a very trim, muscular physique devoid of unnecessary bulk or flab.
Temperament
Working kelpies are hardworking and tireless and their intelligence is apparent to anyone who sees them in action. The dog's desire to work amongst sheep is instinctive. Young, untrained dogs can be seen naturally mimicking the actions of the more experienced dogs, working their actions out for themselves based purely on hereditary factors.
Kelpies are a very loyal breed, and are regarded as a 'one man dog'. When selecting a new dog, stockmen may initially look for a pup which is naturally drawn to them. The stockman can then rely on this bond to be strengthened as the dog matures, making it easier to train the animal.
As the dog matures and is introduced to sheep, stockmen will look for those animals which show a 'willingness to comply'. Wanting to work for their boss, not just for themselves.
Space and exercise
This breed needs space, lots of it. Kelpies are workaholics and running 50 or 60 kilometres a day is usually no problem for this extremely active breed.
The Bench Kelpie is really only slightly less active than the working type, but does not possess the same skills and intellect required for the breed's true purpose.
Health and lifespan
The Working Kelpie is a very sound breed. Breed selection is not only based on temperament and intelligence but also health and conformation, unlike show dogs, which are bred to conform to a written standard (often to the detriment of the overall health of the breed). Average lifespan is 12-15 years.
Cost
A starter dog, which is aged around six months and starting to show its potential will cost between $800 – $2000, depending on ability. A top dog, fully trained with proven exceptional talent may cost anything up to $10,000.
Maintenance and ideal owner
If kept for its intended purpose, the Working Kelpie is a low maintenance dog. The harsh, short coat doesn't require grooming or clipping, there are no inherited health problems which may require regular care and the dog is routinely exercised during a normal working day.
However if you choose to keep a Working Kelpie as a pet, that very same animal may become a high maintenance dog. Daily, extensive exercise is required, and any animal which is not able to express its normal behaviour is prone to develop behaviourial problems, which can ultimately make its keeping that much more difficult. Obedience training is essential, although there really are many other breeds of dog which are more suited as a family pet.
Further information
We filmed this road test with Tony Parsons OAM at a working Merino sheep stud near Toowoomba, Queensland.
Special thanks for Jan for allowing us to use her property. Jan is also a breeder of Working Kelpies and can be contacted on phone (07) 4696 3291.
Tony has been breeding the Australian Working Kelpie for more than 50 years. He no longer breeds commercially and for the past 10 years, his prize-winning Karrawarra Stud Kelpies are only available to a select few.
Amongst Working Kelpie breeders, Tony Parsons has been variously described as an industry stalwart, breed expert and even the 'Kelpie Crusader'. He has written several books on the Kelpie, 'The Working Kelpie', 'Training the Working Kelpie' and 'The Australian Kelpie'. All are regarded as collectors items and unfortunately are now out of print.
Tony is also a best-selling novelist and has written two books based on life in the country.
The Call of the High Country (1999), Tony Parsons, Penguin Books ISBN 0140264612
Return to the High Country (2001), Tony Parsons, Penguin Books ISBN 0140291733
National contacts
To find up-to-date contacts for breeders, contact the following organisations.
The Australian National Kennel Council (ANKC)
www.ankc.org.au
Dogs NSW
http://www.dogsnsw.org.au/breeders-directory
Email: info@dogsnsw.org.au
Phone: 1300 728 022 (NSW only) or (02) 9834 3022
Fax: (02) 9834 3872
Dogs Victoria
http://www.vca.org.au
Email: office@dogsvictoria.org.au
Phone: (03) 9788 2500
Fax: (03) 9788 2599
Dogs ACT
http://www.actca.asn.au
Email: info@dogsact.org.au
Phone: (02) 6241 4404 – Fax: (02) 6241 1129.
Dogs West
http://www.cawa.asn.au
Email: k9@dogswest.com
Phone: (08) 9455 1188
Fax: (08) 9455 1190
Dogs SA
http://dogssa.com.au
Phone: (08) 8349 4797
Canine Control Council of Queensland
http://www.cccq.org.au
Email: dogsqld@powerup.com.au
Phone: (07) 3252 2661
Fax: (07) 3252 3864
Tasmanian Canine Association
http://www.tasdogs.com
Email: tca@iprimus.com.au
Phone: (03) 6272 9443
Fax: (03) 6273 0844
Dogs NT
http://www.territorydogworld.com
Email: naca3@bigpond.com
Phone: (08) 8984 3570
Fax: (08) 8984 3409
The Australian National Kennel Council (ANKC)
www.ankc.org.au
Dogs NSW
http://www.dogsnsw.org.au/breeders-directory
Email: info@dogsnsw.org.au
Phone: 1300 728 022 (NSW only) or (02) 9834 3022
Fax: (02) 9834 3872
Dogs Victoria
http://www.vca.org.au
Email: office@dogsvictoria.org.au
Phone: (03) 9788 2500
Fax: (03) 9788 2599
Dogs ACT
http://www.actca.asn.au
Email: info@dogsact.org.au
Phone: (02) 6241 4404 – Fax: (02) 6241 1129.
Dogs West
http://www.cawa.asn.au
Email: k9@dogswest.com
Phone: (08) 9455 1188
Fax: (08) 9455 1190
Dogs SA
http://dogssa.com.au
Phone: (08) 8349 4797
Canine Control Council of Queensland
http://www.cccq.org.au
Email: dogsqld@powerup.com.au
Phone: (07) 3252 2661
Fax: (07) 3252 3864
Tasmanian Canine Association
http://www.tasdogs.com
Email: tca@iprimus.com.au
Phone: (03) 6272 9443
Fax: (03) 6273 0844
Dogs NT
http://www.territorydogworld.com
Email: naca3@bigpond.com
Phone: (08) 8984 3570
Fax: (08) 8984 3409