Question From:
Scott hodder in Middleton, Middleton South Australia
Nature of problem:
Suitable small trees near septic drain field
Type of Plant (if known):
Magnolia little gem or natives
Symptoms of Plant Illness (please try NOT to diagnose your problems yourself):
Root structures non invasive???
Soil Type (e.g. sandy, clay or loam) OR Potting Mix Type:
Clay..sandy
How often do you water the plant:
Will be on dripper
How many hours of sunlight does the plant get each day:
Full sun
How long since you planted it:
Aiming to plant march
Have you fertilised? If so, with what and when:
Will beef up soil to suit
Is the plant indoors or outdoors:
Outsoors
Is the plant in a pot or in the ground:
Ground.
What other treatments have you given the plant:
Asking if suitable for location
Upload photo if available: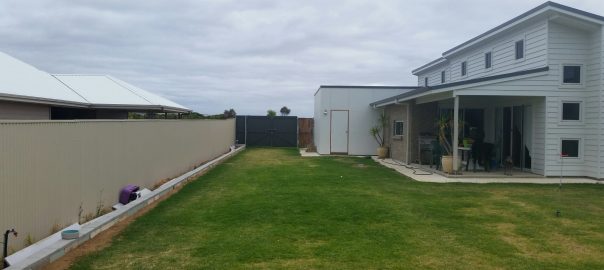 Other Comments:
Hi don..i have underground aerobic waste water drain fields. They are in the whole of my back yard covered by grass to allow water to evaporate up through. The edge of the field is about 2.5metres from the fence line. I have a garden beds about 650mm off the fence as shown. I would like to plant suitable bird attracting natives to hide the fence and neighbours to about 4m max but not encroach onto the lawn area much..or i also read the magnolia little gem may be suitable hedge for the coastal area i live in too.. but im worried about the roots messing up the drain field. Any suggestions..everyone locally is stumped 😕 Scott
Answer:
Hi Scott, Bottlebrushes would be good, check out Callistemon Kings Park Special or C. Harkness. A dwarf type of Magnolia like Little Gem should be OK too.If you get strong salt spray, try NZ Xmas bushes such as Metrosideros 'Thomasii'. Don