Question From:
Leanne in Bayswater, Bayswater Western Australia
Nature of problem:
Pencil Pine has been growing inside a retaining wall made of concrete Twinside for the past 15 years. Wondering if there will be any problems with the root systems breaking the retaining or lifting brickwork. We have had no problems thus far.
Type of Plant (if known):
Cupressus sempervirens 'Glauca' – Pencil Pine
Symptoms of Plant Illness (please try NOT to diagnose your problems yourself):
None – Very healthy just growing bigger.
Soil Type (e.g. sandy, clay or loam) OR Potting Mix Type:
Sandy soil. We yearly mulch and apply slow release fertiliser.
How often do you water the plant:
Twice a week.
How many hours of sunlight does the plant get each day:
Full Sun all day.
How long since you planted it:
15 years ago
Have you fertilised? If so, with what and when:
NPK slow release fertiliser a few times per year.
Is the plant indoors or outdoors:
outdoors
Is the plant in a pot or in the ground:
Inside a retaining wall as the ground behind is the level of the house behind us. We are 1metre below height of retaining wall, hence the retaining wall for our courtyard area. Everything grows really well despite the space. We also have a small box hedge growing on the edge all planted in the same year 15 years ago.
What other treatments have you given the plant:
Slight pruning to tidy up if fronds hang down.
Upload photo if available: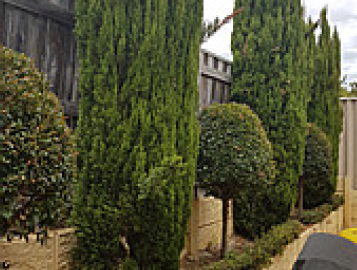 Other Comments:
I would like to know if the roots have the potential to break the concrete retaining wall. No signs of root displacement or wall movement present. Brick paving on lower ground of court yard unaffected. Pine trees are healthy. Also if I were to prune them down and take the top off to reduce the height by half, would this slow down the root system and thereby the roots affecting my retaining wall? I know this is not the correct idea with pencil pines as it then requires far more pruning the pencil pine into shape but as an idea worth looking into if it helps with the root situation?
Many thanks Burke and just had to say I LOVE your work and advice over the years!!
Answer:
Hi Leanne, Do not prune the tops of these plants. This would destroy their shape and it would not affect root growth. Pencil pines are not known for having damaging root systems anyway. I would leave them as they are. If you do have a problem, your wall is modular in construction, so repairing it would not be too difficult. You would just slide a panel or two upwards to get access to offending roots. Don