Question From:
Sonya Harwood in Busselton , W.A Western Australia
Nature of problem:
Name of tree please shape like mushroom grows roughly 5m tall.
Type of Plant (if known):
Provided photo
Symptoms of Plant Illness (please try NOT to diagnose your problems yourself):
N/a
Soil Type (e.g. sandy, clay or loam) OR Potting Mix Type:
Mixture of clay, mulch
How often do you water the plant:
Rain only
How many hours of sunlight does the plant get each day:
Everyday
How long since you planted it:
1 year
Have you fertilised? If so, with what and when:
Mixture of cow manure etc
Is the plant indoors or outdoors:
Outdoors
Is the plant in a pot or in the ground:
This is a cutting re planted.
What other treatments have you given the plant:
N/a
Upload photo if available: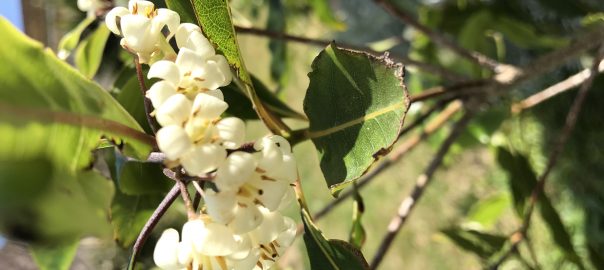 Other Comments:
Original tree is in Cowarump W.A planted 15 years ago. We were wanting to source name of tree as it has beautiful strong scented flowers and it grows into a mushroom shape tree. Very different. Thankyou for your help.
Answer:
It looks a bit like the tree gardenia, Rothmannia globosa, but the photo is a bit blurry and doesn't show enough detail. Don