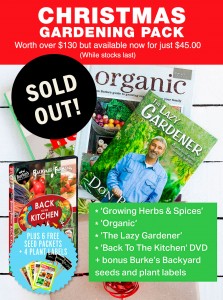 Christmas Gardening Pack
For a limited time only. We are offering our gardening enthusiasts a bargain gardening pack. Packed full of our best selling gardening related products, it's a must for those in the kitchen that want to grow their own herbs and vegetables. Buy one for yourself or for your keen gardener or cook.
Out of stock
Product Description
'Growing & Using Herbs & Spices'
'Organic'
'The Lazy Gardener'
'Back To The Kitchen' DVD
+ Bonus seeds and plant labels
Worth over $130 for just $45.
Limited stocks available.
Comments
comments