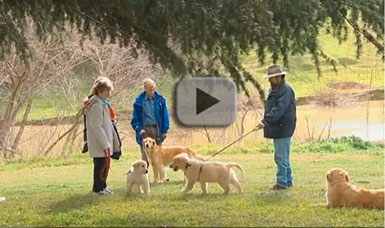 Golden Retriever
Breed: Golden Retriever
Temperament: Friendly, trusting
Lifespan: 13 years
Recommended for: Families
The Golden Retriever is one of Burke's Backyards' top family dogs with a reputation for sound temperament.
Appearance: A male Golden Retriever stands about 56-61cm (22-24") while females are smaller at 51-56cm (20-22"). They are a medium-large dog weighing between 27-37kg (60-80lb).
The coat is wavy, double and water-resistant. Colours range from shades of cream to deep gold. While pups are quite pale, the colour of tips of the ears can indicate its final adult colouring.
Temperament: The Golden Retriever has been described as an ideal family pet, good with children, loyal, eager to please and easy to train. They are intelligent, docile and should not be aggressive. Some animal behaviourists believe Golden Retrievers may have suffered from rising popularity and indiscriminate breeding may see snappiness detected in some lines.
Health:
Hip dysplasia and elbow dysplasia are debilitating bone diseases. Only buy pups after seeing screening certificates. Even this is no guarantee the pup will be disease-free. Obesity can aggravate hip problems. Cataracts can be a problem and screening is available.
Grooming: Many pet owners find a thorough 10 minute brushing once a week is adequate. A monthly bath shouldn't dry the coat of its natural oils.
Housepet potential: Golden Retrievers are happiest when inside with their families, however, be aware the coat does shed a lot of hair, more as the seasons change. Young dogs may chew furniture.
Training: Golden Retrievers thrive on structured training programs and are consistent top performers in obedience and agility trials.
Space & exercise: Not a breed for the flat or terrace as these dogs do like to romp and explore a backyard. A daily walk will benefit the dog and keep its weight in check.
Useful qualities: Golden Retrievers are used in Pets As Therapy schemes and as guide dogs for the blind overseas. In Australia they are primarily pet or companion dogs, although a few enthusiasts still use them in gundog and tracking trials.
History: The Golden Retriever appears to be a mixture of many breeds. While some people still think they are longhaired Labradors - and they probably have a shared ancestry - the Golden Retriever was recognised as a breed in its own right in the UK about 1913.
While originally developed as a gundog, today they are now one of the world's favourite family pets. Golden Retrievers are now Australia's third-most popular registered purebred.
National contacts
To find up-to-date contacts for breeders, contact the following organisations.
The Australian National Kennel Council (ANKC)
www.ankc.org.au

Dogs NSW
http://www.dogsnsw.org.au/breeders-directory
Email: info@dogsnsw.org.au
Phone: 1300 728 022 (NSW only) or (02) 9834 3022
Fax: (02) 9834 3872

Dogs Victoria
http://www.vca.org.au
Email: office@dogsvictoria.org.au
Phone: (03) 9788 2500
Fax: (03) 9788 2599

Dogs ACT
http://www.actca.asn.au
Email: info@dogsact.org.au
Phone: (02) 6241 4404 - Fax: (02) 6241 1129.

Dogs West
http://www.cawa.asn.au
Email: k9@dogswest.com
Phone: (08) 9455 1188
Fax: (08) 9455 1190

Dogs SA
http://dogssa.com.au
Phone: (08) 8349 4797

Canine Control Council of Queensland
http://www.cccq.org.au
Email: dogsqld@powerup.com.au
Phone: (07) 3252 2661
Fax: (07) 3252 3864

Tasmanian Canine Association
http://www.tasdogs.com
Email: tca@iprimus.com.au
Phone: (03) 6272 9443
Fax: (03) 6273 0844

Dogs NT
http://www.territorydogworld.com
Email: naca3@bigpond.com
Phone: (08) 8984 3570
Fax: (08) 8984 3409
The Australian National Kennel Council (ANKC)
www.ankc.org.au
Copyright CTC Productions